Miss Grand International: India's Pankhuri Gidwani's National Costume will leave you spellbound
Designed by Melvyn Dominic Noronha, the gown is a beauty!
Pankhuri Gidwani at Miss Grand International.
| | |
| --- | --- |
| Name : | Anukriti Gussain |
| Country : | India |
| Ages : | 22 |
| Height : | 171.0 cm |
| Weight : | 51.0 kg |
| Body figure : | 34 23.5 35 |
| Education/Occupation : | Having pursued Software DIT University, Working as a Software Engineer in one of the leading IT firms – Cognizant Technical Solutions |
| Hobbies : | To play basketball and taking road Trips |
| Ambitions : | To drive community service initiatives in the scope of Right to Education among underprivileged children and women empowerment programs |
I am a happy go lucky girl who is culturally driven and steadfast in my approach towards life. I draw my inspiration from my parents who have led an exemplary life of selfless service and faithful servants of humanity. Adaptability to new environments comes naturally to me strongly believe in leading life driven by the power of love and humility.I feel that God has created us with a purpose to add value and meaning to the world and going by this belief, I have managed to institute a school providing preliminary education to underprivileged children in my locality and named it udaan (which means flight of dreams). Journeying along with these children made me realize that there is much more to life that performing to claim validation and acceptance to satisfy our greed. I believe that one should live today in the way we want to be remembered tomorrow.I believe that one should live today in the way we want to be remembered tomorrow.
After Priyanka Chopra, it's 18-year-old Pankhuri Gidwani's chance to take over the world. At the Miss Grand International, a coveted beauty contest, the model introduced herself in a stunning costume for the National Costume Competition. Designed by Melvyn Dominic Noronha, the gown spelled grandeur and was a perfect representation of Indian culture.
The winner for the National Costume Round will be chosen via social media voting and 10 national costumes with the highest number of votes will be announced as the Top 10 Best National Costume finalists. Then, the panel of judges will select a winner and the announcement will be made in the Final Show on October 25. Gidwani will compete with 79 other beauties from across the globe.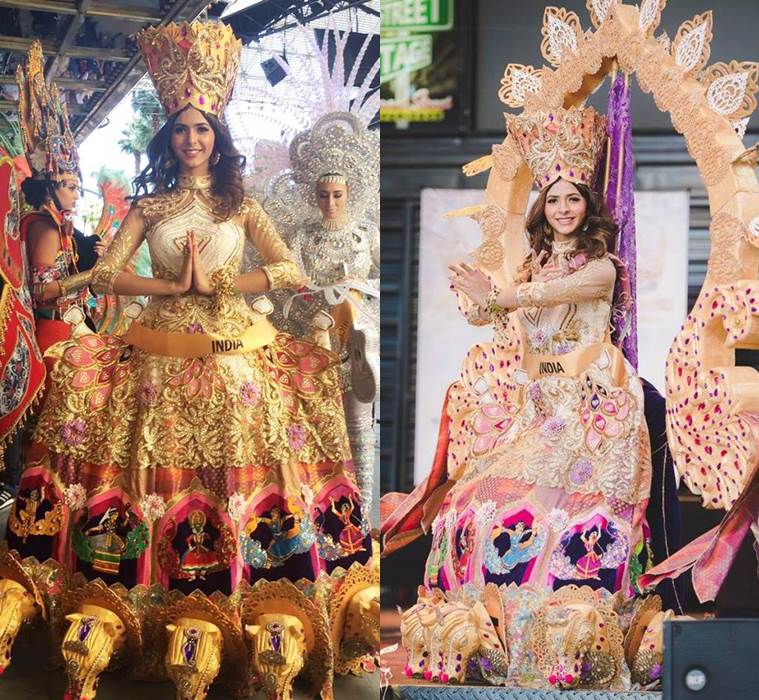 "Coming from a multicultural country of colourful traditions and festivals, we Indians strive to be a true symbol of peaceful cultural harmony and represent our international wonder of the world, the symbol of love, the Taj Mahal. My national costume is a whimsical stage of the dance presentation of the 7 classical Indian dances with the grace of the dancing national bird, the peacock," Gidwani wrote about her costume on her Facebook page. She goes on to describe the significance behind it.
"This stage is set in my home city, Lucknow, the land of the Nawabs. Through the Hindu Muslim fusion architecture known as the Ganga Jamuni Tehzeeb, the beauty of the Nawabi culture is represented in its famous monuments. The Bara Imambara, the tomb of King Akbar, Humayun's tomb, the Chota Imambara and Begum Hazrat Mahal park. So riding on my royal chariot, like a gentle lotus which is the symbol of Indian femininity in purity, I am Nawabi Begum Pankhuri Gidwani from the grand and incredible India."
About 'Stop The War and Violence' campaign :
I believe in – HUMANITY. I believe that LOVE is above all class, caste, language, religion or race. Across the world, we may have differences but these differences are simply shades of the same color – humanity. Why are wars always fought in the bargain of the INNOCENT, why are they always driven by greed for wealth and power?! Is it worth endangering so many lives to fulfill the vested interest of the superpowers? Today when global peace is once again perilous, it is imperative that we do not pitch these differences as propagandas of war but instead as an example of diversity that needs to be accepted & embraced freely. I urge you to feel the human suffering & pain of the millions affected by the wars of A few. TOLERANCE, ACCEPTANCE and RESPECT for others are the key ingredients to stop war – whether it is between two nations or at a personal front or within a family. So let's pledge to quench our ego to make this world safer,a place to LIVE and LOVE,Let's spread this message out and loud,let's bring the change.Let's stop the war.